Pre-register here http://en.datealive.com/
Main Menu
This is where you have access to all parts of the game.
If you want to change the spirit on the Main Menu, simply tap on her and a tiny pink menu should appear beside her, showing their affection level and a progression bar towards the next level.
You also gain 1 point of affection, each time you tap on your spirit, with a certain daily limit.
Date a live spirit pledge tier list
Click here: TIER LIST – Date a Live Spirit Pledge
Date a live spirit pledge reroll guide
Click here for reroll guide: Reroll guide
DAL spirit pledge Guide
Stages
There is the Storyline, Daily, Event and Theatre
Dates
Here is where you can interact with your spirits by going on dates with them, offering gifts, and check on their unlocked routes and CGs. You can also Cook, Craft and do Part Time jobs in this section.
You can check on all the available spirits on the left side, bringing up a quick menu when you tap on their icons. Here you can Observe by showing where they currently are.
Main Date goes directly to the main date menu for that spirit
Daily Date for the daily date menu for that spirit 
Gallery is where you can check on all the CGs you've unlocked for that spirit, their date routes, and their dresses.

You can craft and cook items to give to the spirits as presents, with enough skill points, you can create higher quality items. You increase these skill points by doing certain part time jobs, only the ones that show a +1 on a skill area increase that skill point.

Sometimes you can find spirits in certain states, those being Hungry and Bored, which can be solved by giving them food and going on dates respectively.

Observation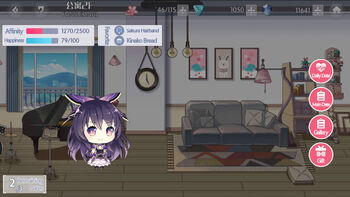 Here you can watch your spirits. If you tap on a spirit, you can see their Affinity level, Happiness level, their favorite gifts, the remaining dates you can perform per day, as well as options like:
– Daily Date
– Main Date
– Gallery
– Gift

Daily Date is where you can choose a setting and go on a date with that spirit, they all have different routes and endings as well as CGs. If you do manage to finish them all, you get a Bonding Token. 
Main Date is where you go on a lengthy date with that spirit, it's a bigger version of the Daily Dates but these don't consume your remaining dates for the day.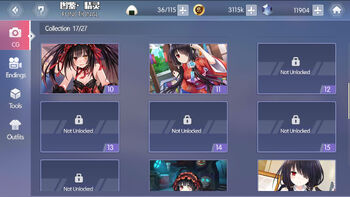 Gallery is where you check on your unlocked CGs for that spirit, the endings there are for each daily date setting and see the Outfits you've unlocked while also being able to redo the costume specific dates.
Finally Gifts is where you choose either Food or a Gift to offer the spirit, these vary with quality, ranging from 1 star to 5 stars, and they increase the spirits affinity as well as their happiness.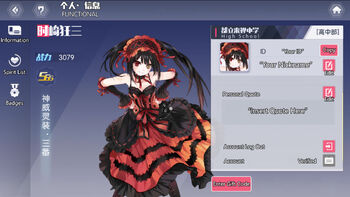 Phone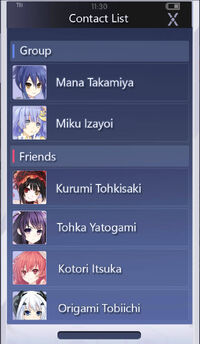 On the lower right corner you can see what resembles a smartphone, from time to time you'll get messages from the spirts.
They may appoint dates with you, which you'll have to choose between 3 answers: 1 positive, 1 neutral and 1 negative.
If you answer either positive or neutral, you'll win 10 points of happiness and affinity towards the spirit, while also getting a date with the time marked above the results.
You'll need to go over the Dates section in the time window stated in the result of your answer, and see the spirit in question. If you fail to see the spirit in the given time, she'll lose 10 points in both happiness and affinity. This also happens if you decide to choose the negative answer.
date a live spirit pledge, Spirits Menu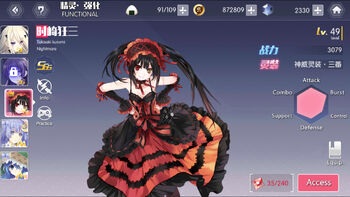 In this menu you can manage your spirits.
You can view any any spirits info, regardless if you own them or not, by tapping on the info button.
Test a spirit you own, by tapping on the Practice button. On the bottom right corner, you can view how many fragments you need for ranking up the spirit.
By tapping the Access button you can see and go to where you may acquire the fragments.
DAL spirit pledge guide